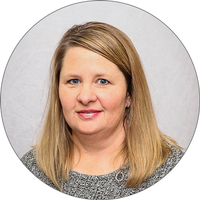 Heather Hafner
Realtor® | Certified Residential Specialist
A little about me...
A licensed Iowa REALTOR® since 1996 and with a broker's license since 2005, Heather is a member of the National and Iowa Associations of REALTORS ® and currently holds a director's position with the East Central Iowa Association of REALTORS®. Heather has earned a CRS (Certified Residential Specialist), the highest credential awarded to residential sales agents. She also has a bachelor's degree in communications and a master's degree in English.
Heather grew up around real estate. Her father, whose career spanned 50 years in the Maquoketa, Iowa market, was a big influence on her decision to become a realtor. She was taught and lives by her dad's philosophy that your word and your reputation are the foundation for your business success. Heather knows what it takes to gain her clients' trust and to satisfy their real estate needs – hard work and honesty.
A native of Maquoketa, she is devoted to seeing her community succeed by volunteering her time and energy as a member of the city's Planning & Zoning Committee and the Comprehensive Planning Committee. She is also a member of the Maquoketa Chamber of Commerce, the Athletic Booster Club and the Christian Education Committee for the First Lutheran Church.
When she isn't helping clients with their real estate needs, or supporting the community through committee work, Heather and her husband Bryan work as a team raising their two children, Laney and Charlie. Heather also enjoys spending time with family, the outdoors, reading, sports, movies "and whatever my kids are into."
Client Success

"Steave knows the business inside & out. Very professional & trustworthy. He is best realtor I've ever done business with. I would highly recommend Steave Nemmers."

"He is awesome to work with and he is very trustworthy! I highly recommend!"

"Nemmers Realty did a great job walking us through all of the ins and outs of selling our home. We were grateful for such a smooth transition!"

"Steve was informative, helpful and responsive. We greatly appreciated his help in selling our home."

"I wouldn't sell/buy a house without Nemmers Realty. Stevie is the best to work with. He goes above and beyond to help his clients find what they want. Throughout the whole stressful process of selling a home, he helped us through the entire process and reminded us of what needed to be done and was honest with us throughout it all. I strongly recommend Nemmers Reality and Stevie Nemmers if you
…
Read More
want quality/honest help while buying or selling your home."
Read Less

"Steve with Nemmers Realty made the process of selling our property seem effortlessly. We met with Steve one evening prior to listing our property, had a few phone conversations over the next few weeks, soon after that he told us he had a buyer and the next thing we were meeting at the Lawyers with the new owner and the process was complete. Thank you Nemmers Realty for a job well done."

"Steve was great to work with, listened well, and made excellent suggestions throughout the process"

"Steve was great to work with! We are new to the area so He was able to help us get in touch with all the right people to get our house purchased! He was there to answer any questions we had and honestly just made the whole process easier! Buying and/or selling he's got our business!!"